FOTEMP ASSISTANT 2
All monitoring solutions are supplied with FOTEMP ASSISTANT software. This flexible, user-friendly interface provides access to real-time data and stored historical parameters. The data can be displayed graphically, exported or visualized in various ways.
FOTEMP ASSISTANT also facilitates the setup and configuration of your monitoring system. It offers the possibility to adjust device parameters as well as channel-specific parameters. Thus, depending on the application, you can easily set analog limits, relay points, temperature offsets as well as logging function.
FOTEMP ASSISTANT runs on Microsoft Windows operating systems.
For more information, a user manual or to download the latest version, please scroll to the download section.
FOTEMP CALIBRATION
Add-In [Beta]
This Add-In offers you the possibility to control the calibration of your device independently and to adjust it if necessary.
Furthermore, it is possible to save and load your calibration and thus offers the possibility to switch between several profiles.
In case of a manipulation of the calibration, however, the certification expires.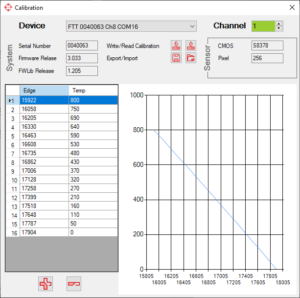 FOTEMP SPECTRUM
Add-In [Alpha]
This Add-In offers you the possibility to control the signal condition of the channels of your monitoring solution.
Furthermore, it is possible to log the data and to adjust the integration times of your monitoring solution if necessary.
Currently only communication via our ASCII protocol is supported.